You are here
Home
» Acrodiclidium kunthianum Nees, holotype
Note on Classification
List of names from TROPICOS - all other data entered by us.
N.B.:  These data are in the process of being edited.  Look for literature data do see if a particular name has been edited or not.  The others are of course NOT all accepted names.  If you have any question about a name, please contact us.
Acrodiclidium kunthianum Nees, holotype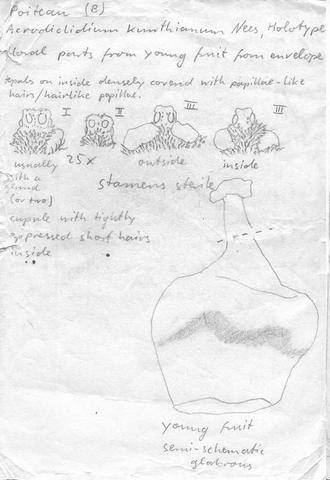 Description:
Remnants of flower parts from the rim of young cupules, from the holotype of Acrodiclidium kunthianum Nees (= Rhodostemonodaphne kunthiana (Nees) Rohwer), Poiteau s.n. (B), barcode B 10 0247364.  In the protologue, Nees wrote "Crescit in Guiana Gallica, (Poiteau.)  Vidi in Herb. Kunthiano absque floribus perfectis."  This specimen (see Digital Herbarium at http://ww2.bgbm.org/herbarium, ImageID 253242) is from the Kunth herbarium and bears the handwriting of Nees, so that there is no doubt that it is the holotype.